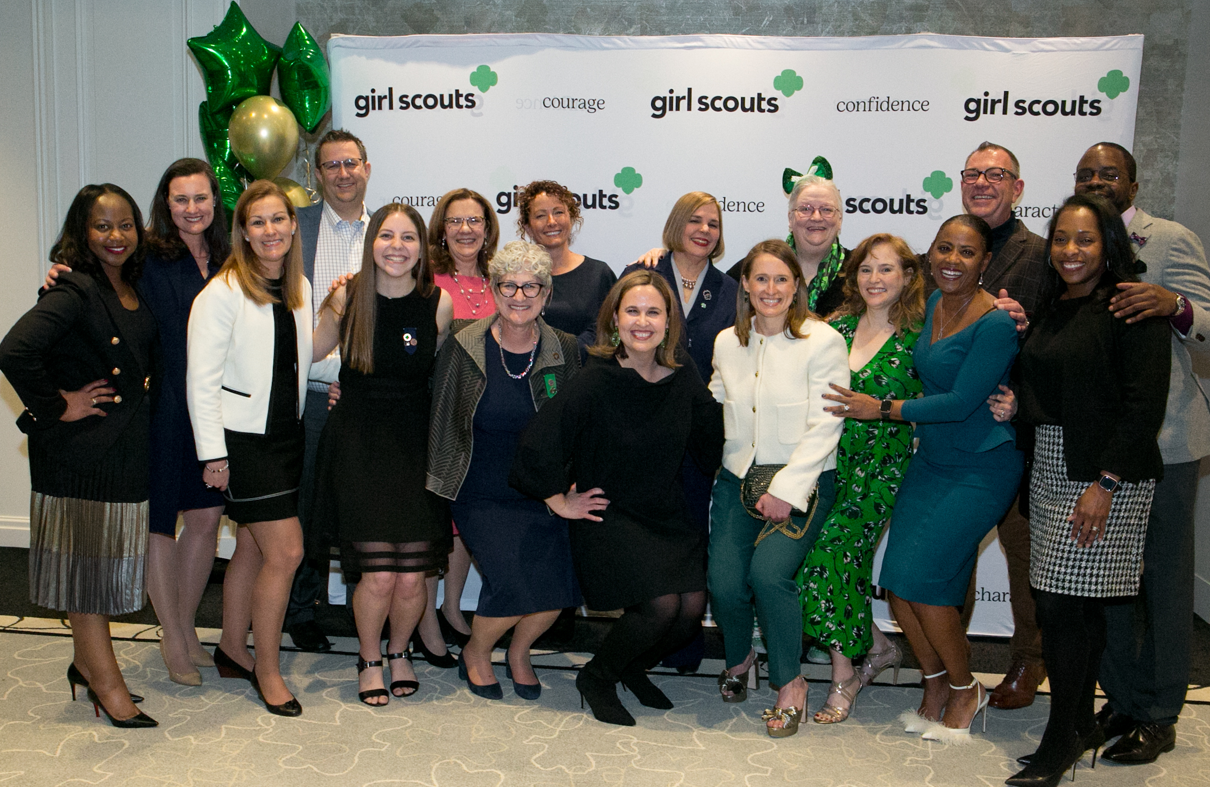 Board of Directors
Girl Scouts of Greater Chicago and Northwest Indiana is governed by a volunteer board of directors composed of women and men who believe in the value of Girl Scouting and the program's ability to build girls of courage, confidence and character, who make the world a better place.
Board members use their professional expertise and personal perspectives to make decisions that provide leadership for the council and establish its policies and bylaws. These governance volunteers represent our membership and reflect its diversity, including geographic, racial/ethnic, gender, age and socio-economic. Board members are elected by the full Delegate Assembly.
Girl Scouts GCNWI Board of Directors
Kathy Scherer - President
Chicago Managing Partner
Deloitte
Kathy Scherer, Girl Scouts of GCNWI Board President, is a native of Kalamazoo, MI and a University of Michigan Wolverine. She is currently Deloitte Chicago's Managing Partner and the Board Treasurer of Junior Achievement of Chicago. She is also a wife and mom, a proud Chicagoan, and an avid hockey fan.
"Girl Scouts made me a woman of Courage, Confidence & Character. I want all girls to have the same opportunity!"
---
Jennifer Mikulina - First Vice President
Partner 
McDermott Will & Emery LLP
Jennifer M. Mikulina focuses her practice on trademark and copyright counseling, prosecution, licensing and enforcement. Jennifer works with domestic and international companies to register, maintain, protect and license trademarks, service marks, domain names and other key brands. Jennifer is the former head of the Firm's global Trademark Prosecution Practice. She is currently the chair of McDermott's Gender Diversity Committee and is a member, and past chair, of the Firm's Chicago Pro Bono and Community Service Committee. 
"Jennifer is a lifetime member of Girl Scouts and leads her daughter's Girl Scout troop. She wants to do all that she can to support the mission of creating girls of courage, confidence, and character, who make the world a better place!"
---
Sherina Maye Edwards - CEO
Intren
"I love everything about the Girl Scouts but mainly the fact that it cultivates young women rooted in courage and confidence which are life skills and will propel a woman towards success for years to come."
---
Carol Murphy - Treasurer
AON Risk Solutions
---
Sheryl L. Yasger - Vice President 
Discover Financial Services/ Discover Global Network
Sheryl Yasger is Vice President of Diners Club International Brand Marketing for Discover Global Network at Discover Financial Services. As a brand steward passionate about doing what is right for the customer and a marketing strategist focused on partnering with Senior leaders from DCI Franchises around the globe, she has helped to build purpose-driven brands that stand out and deliver business results.
She holds a Master's of Science degree in Organizational and Interpersonal Communication from Illinois State University in Normal, IL, and a Bachelor's degree in Organizational Communication and Sociology from Carroll University-Waukesha, Wisconsin.
She loves hanging out with her amazing daughter and husband, traveling, working out, reading, cooking, and spending time with family and friends.
"I believe everyone has the power to make a difference. Now more than ever, Girl Scouts has the opportunity – and responsibility – to empower girls and young women to not only courageously and confidently stand tall, but to standout as aspirational leaders with character who can and will make a difference in our world today and tomorrow…Count me in!."
---
Nancy L. Wright - Ex-Officio Member/CEO
Girl Scouts GCNWI
---
Duke Alden
Alight Solutions
---
Patricia Aluisi - Chief Operating Officer
MB Real Estate
Patricia Aluisi is a mother, wife, lawyer, business executive, and lifelong Girl Scout. Her law career began in Baltimore, advanced to global general counsel based in London, and landed in Chicago with MB Real Estate. Her personal life is blessed with her daughter Jordan, now a senior at University of Wisconsin-Madison, and her husband John. She enjoys hiking, skiiing, cooking, and travel.
"Building courage, confidence and character in everyone is critical for our society. Girl Scouts does amazing work with girls and I am honored to be a part of carrying out its mission and reaching as many girls as possible in doing so."
---
Danielle Austen - CEO
fluent360
Danielle is the founder and CEO of fluent360 LLC, a full-service, multicultural advertising agency. From Nordstrom to Sony to Nissan, State Farm and Mercedes-Benz, Danielle has helped grow brands, while making the world a more inclusive place through messaging and imagery. She serves on the National Board of Directors for the American Advertising Federation and a start-up tech firm, CRVIII.com. Danielle received her undergraduate degree from Emory University and her graduate degree from Northwestern University. Born and raised on Chicago's Southside, she resides there with her husband and two kids. 
"We need to focus on the health, strength and wellness of all girls as they are critical to the success of our  communities, our nation and our world."
---
Mary Bakken
Silver Cross Hospital
---
Jackie Barlow - Regional Manager - Commercial Real Estate
CIBC
Jackie Barlow has spent over 30 years as a commercial banker, focusing on financing commercial real estate. In addition to the last six years at CIBC, she has worked with a variety of commercial, community, and large national banks located in Chicago. She is an active volunteer and has served on several non-profit boards, including Hephzibah Children's Association, Oak Park Regional Housting Center, and Oak Park Economic Development Corporation. She is also a former Girl Scout troop leader!
"I am passionate about helping women into leadership roles throughout our society. GCNWI's track record of  empowering young women makes me proud to be a member."
---
Sarah Cigrang - Sr. Director, Integrated Talent Experience
Ingredion
Sarah Cigrang grew up in the Northwest Suburbs of Chicago and attended the University of Illinois for undergrad and graduate school. After graduate school, Sarah took her first job in HR, and moved to Arizona, Florida, Minnesota, and even to Switzerland for three years. Now back in Chicago, Sarah loves spending time with family and friends, eating great food, and staying fit and healthy.
"I grew up a Girl Scout and my mother was my troop leader for several years. She was an inspiration to me and a  role model of female leadership. I want to do the same for many other girls."
---
Christine Concari - Director Customer Service
ArcelorMittal USA
Christine Concari is a metallurgical engineer by degree, and worked in the Quality Department in steel mills for over 20 years while earning her master's degree and raising her two daughters. She is currently in the Commercial department of ArcelorMittal USA, first as a salesperson and now as head of their customer service department for the last 10 years. Born in western Pennsylvania, Christine spent most of her adult life in Baltimore and now lives in Chicago.
"I wanted to get involved in something meaningful outside of work and ArcelorMittal has been a big supporter of Girl Scouts. My daughters were Girl Scouts, so this has been a great opportunity to be involved with a special organization that means so much to me personally and to my company."
---
Sidney Dillard
Loop Capital Markets
---
Jennifer R. Evans
Retired
---
Adrienne Fasano - CEO & President
Scoperta
Adrienne Fasano is a passionate executive and marketer with a track record of connecting brands to sales to grow revenue and achieve measureble results. She is a trusted advisor and partner to business leaders, and drives how brands connect with consumers as CEO & President of Scoperta.
"Providing guidance and direction to our upcoming female leadership is a critical priority of mine and GCNWI  checks all the boxes.."
---
Paul Gariepy 
Ernst & Young
---
Anna Gomez - Chief Financial Officer
Leo Burnett Company
As Chief Financial Officer, Anna Gomez directs and oversees the financial operations of all Leo Burnett Group agencies across North America, as well as others within Publicis Communications. In a large and increasingly complex business, Anna helps keeps the agency financially organized to best ensure their ability to generate powerful, creative solutions that drive results for clients.
"As a mother, an immigrant and a career woman, I believe that with the right mentorship and guidance, young girls can gain the confidence they need to live an impactful life."
---
Kathy Graham - SVP Senior Portfolio Manager
U. S. Bank
Kathy Graham has worked in banking the majority of her career, helping companies and individuals manage various types of financial market risk. Kathy has most enjoyed building trusted relationships and providing valuable advice to help clients achieve their goals as SVP Senior Portfolio Manager at U.S. Bank. Kathy is also a mother of now 30-year old triplets, and was a Girl Scout leader for her girls.
"Dedicated to the growth and development of girls and young women, particularly those with limited means and opportunities.."
---
Christina Konieczka - Director, Talent Acquisition
Mark Anthony Services
Christina Konieczka is an alumnus of Valparaiso University and the Kellogg School of Management at Northwestern University. She leads recruiting in the US for Mark Anthony. After experiencing Girl Scouts as a girl, she wanted her daughter to have that experience and proudly led a troop for 8 years, and remains involved in her daughter's current troop serving as the Fall Product and Cookie Volunteer. She lives in the western suburbs with her husband, daughter, son and two rescue dogs
"Girl Scouts has done an amazing job of evolving and growing to continue to serve girls in our changing world. I am proud to be a part of the pre-eminent leadership development organization for girls support & inspire our future, female leaders."
---
Julie Marcello - Managing Director and Head of Office Chicago
Marsh
Julie is an accomplished insurance industry exective with global management and operational experience. She has 20 years of domestic and international experience spearheadeding startetegy, PL&L managment, underwriting portfoilio management, operations, service delivery and team leadership. Prior to joining Marsh, Julie spent 18 years with Chubb Insurance in leadership positions around the globe including Europe, Australia, and Latin America.
"Serving on the board is consistent with my desire to support the development of young girls and women as they seek to become thriving members of their communities and positive influences for others."
---
Ann McAloon
Bank of America Merrill Lynch
---
Jean Medina - Communications Leader 
ComEd
Jean is a lifelong communicator, having started her career as a reporter before branching into public relations, helping to lead the communications efforts for such large Chicago companies as United Airlines, Exelon and most recently ComEd. Having spent 14 years in the airline industry, she maintains the love and wonder of travel. While she has loved all her jobs, her favorite role is still mom to three now young adult daughters, all of whom were in the Girl Scouts, and all of whom now afford her the opportunity to travel as they have moved across the country. 
"I wanted to join this board because its mission aligns with my own: and that is to help empower all young women to be future leaders. It all starts with girls believing in themselves and being part of an organization that supports them."
---
Carla Michelotti - President
Carla Michelotti, LLC
After many years as EVP Chief Legal, Corporate and Government Affairs Officer for Leo Burnett, Carla is now working within the marketing industry on policy issues including digital privacy, freedom of speech, and children's advertising regulation. She is currently on the boards of advertising self-regulation for BBB National Programs, the American Advertising Federation, the International Advertising Federation, and the International Council of Advertising Self Regulators. She is a trustee of DePaul University, from which she has a BA, JD, and honorary doctorate. 
"There is no greater purpose than helping.our youth grow into strong, kind, and moral men and women, The Girl Scouts has at its core helping young women grow into good, ethical, strong and smart leaders. I can't imagine a better reason to support the Girl Scouts-and for THAT reason, I've been on the board, and a proud supporter of Girl Scouts, for more than a decade!"
---
Jennifer Montague - SVP and Chief Customer Officer
NiSource
Jennifer Montague serves as the Senior Vice President and Chief Customer Officer for NiSource, a natural gas and electric utility company servicing 4 million customers. She manages a team focused on customer experiences in the areas of Customer Care Centers, Customer Insights and Marketing, Billing & Payments and New Business. Prior to joining NIPSCO, Jennifer had nearly three decades of customer operations, branding, communications and marketing experience in several roles with Commonwealth Edison and British Petroleum/Amoco. She earned a bachelor's degree from Stanford University and an MBA from the University of Chicago.
"I'm dedicated to helping girls today develop the resilience they need to engage in active leadership. In these unprecedented times, Girl Scouts' mission of building girls of courage, confidence and character to make the world a better place is needed now more than ever."
---
Suellen Ravanas
JLL Americas
---
Kim Reome - Central Region Lead Partner
The Kenrich Group, an HKA Company
Kim Reome is a Certified Construction Industry Financial Professional, and a Certified Fraud Examiner providing financial and economic damages analysis and froensic accounting for litigation and disputes. Kim's work is focused in the electric utility, construction, and government contract industries and provides expert witness testimony.
"As a former Girl Scout and a mother of Girl Scouts, I am proud to support an organization that prepares girls to face the challenges of the future!"
---
Scott Saunders - President
Saunders Leadership Institute
Scott Saunders is a global executive officer with over 36 years of experience leading profitable growth strategies and integrated extended suplly chains across consumer products, food service, packaging and pharmaceutical industries. Scott is recognized for building and developing empowered leadership teams and driving a culture of accountability across all levels of organizations. Scott currently leads a consulting, coaching, and training organization focused on supply chain and operations consulting and people development.
"Utilize my corporate experience to help develop the next level of leaders for the future. I am not comfortable with the status quo and always have fire in my belly; creating unforgettable moments for those I love, developing new friends and changing the world to make it a better place!"
---
Hille Sheppard
Sidley Austin LLP
---
Manika M. Turnbull - Divisional Senior Vice President, Workforce, Talent & Business Engagement
Blue Cross and Blue Sheild of Illinois
Manika M. Turnbull leads the strategy related to building and retaining a high performing workforce, and optimizes people-centered activities such as hiring, training, professional development, and performance management. Prior to her current role, Manika was Vice President and Community Health & Impact Officer, and was responsible for establishing initiatives and civic investments to improve community health and health care accessibility. Manika holds a master's degree and Ph.D. from the Chicago School of Professional Psychology, where she also serves on the Board of Trustees, and is a graduate of James Madison University, where she was team camptain of their Division I basketball team.
"I serve on the GCNWI board to help advance the important work of developing future female leaders."
---
Roycealee Wood
Lake County Schools
---
Kendall
Hello! My name is Kendall, I am from Lemont, Illinois and I am a current senior at Lemont High School. I am entering my 13th year in Girl Scouts and am working on the last step of my Gold Award. In my free time, I enjoy sewing and embroidering and participating in Student Council, National Honor Society and Rho Kappa Honor Society at my school. In my future, I look forward to studying accounting and completing my MBA. I am so excited to use the countless skills and courage that Girl Scouts has taught me!
Anjeli
Hello! My name is Anjeli and I am an eighth grader from Chicago. I currently attend Lane Tech High School's Academic Center where I play sports that include basketball, volleyball, and soccer. My favorite subjects are math, science, and computer science, but I also enjoy playing the piano, guitar, and ukelele on my own time. I have been a Girl Scout for almost 9 years and other extracurriculars that I enjoy participating in are Math Team and Robotics. This year, I hope to be a voice to all the girls in our council by voicing my opinions to the Board of Directors so that we can move forward as future leaders prepared to add value to their communities.
Megan
Hi! My name is Megan.  I live in Lincoln Park and I am a sophomore at the Latin School of Chicago. This will be my 11th year in Girl Scouts. I have earned my Bronze Award (a patch designed for Girl Scouts in the hospital) and Silver Award (knitting hats and scarves for kids in need).  I am working on my Gold Award. I have had so many amazing opportunities through Girl Scouts and I am so excited to be on the board this year!
Emily
Hi! My name is Emily, and I am a Sophomore at New Trier High School. I have been a Girl Scout since 1st grade and am currently pursuing my gold award. Other than Girl Scouts, I enjoy dance, orchestra, and being a member of my school's debate team. I am grateful for the opportunity to be on the board and to learn the inner workings of an organization that has impacted me so much throughout my life.
McKenzie
Hi! My name is McKenzie and I'm currently an 8th grader at Ted Lenart Regional Gifted Center in Chicago, Illinois. I've been a Girl Scout for 8 years and it has taught me a lot about girl power and kindness. In the future, I plan to be an entrepreneur and/or to be a famous actress on Broadway, television shows, and movies. Some of the things I like to do are dancing, acting, playing the flute, playing the piano, being in the student council, being a member of the National Junior Honor Society, baking, spending time with family and friends, traveling, volunteering, and swimming.