Juniors and Cadettes: do you like working with people? Are you curious about computers? Does managing money sound exciting?
If any of these things interest you, join LGIM America in a virtual Spark Day to explore the investment management industry! We will learn about how investment management is part of a larger industry called financial services, and explore various career paths you can pursue in this industry.
Continue >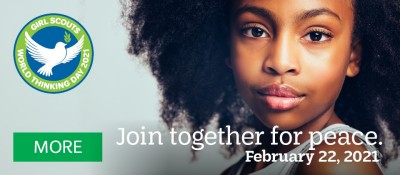 For more than 100 years Girl Scouts has stood for making the world a better place, and pledged to "help people at all times." Those words carry great weight and responsibility and inspire us with strength as we denounce institutional racism, violence, injustice, and inequity.
Continue >

Become inspired by GCNWI girls and read up on new Girl Scout stories every week.
Continue >

Families can enjoy our activities from anywhere, even when circumstances keep you at home. Whether girls you work with are currently Girl Scout members or not, we have resources and activities available to keep her and the whole family engaged!
Continue >