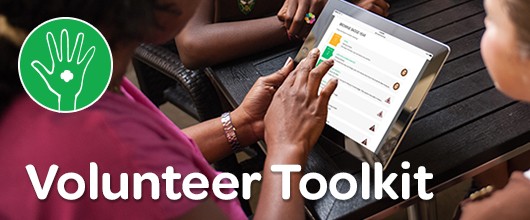 Volunteer Toolkit
The Volunteer Toolkit (VTK) is a comprehensive digital tool accessible via the web on your home computers, smartphones, and tablets to help you have a fun and successful year with your Troop!
LOG IN >>
To access you must have an active account in the Member Community.
The Volunteer Toolkit gives you program content and other resources to manage your troop planning all year long—and keep it going smoothly!

Here's how it will save you time and help you plan:
Daisy, Brownie and Junior leaders can access pre-populated plans for every meeting.
Cadette, Senior and Ambassador leaders can access planning features.
Everything is fully customizable! 
You can also:
Manage troop finances
Track girls' achievements and attendance
Reference important safety guidelines for field trip planning
Stay in touch with parents and share meeting plan information
Access the VTK today for all new content for every grade level, plus new features! You will find: 

The NEW Explore Tab: Makes finding and choosing badge and Journey content quicker and easier! 

Additional Badge earning Tracks: All Daisy to Ambassador Troops have even more ways to plan their year with pre-populated badge earning plans. 

Badge Requirements: Just click on the image of the badge! Now you can see what is needed to earn the badge and then customize the meeting plan to fit your troop! 

Older Girl Year and Meeting Plan Format: The year plans and meeting plans will have all great VTK format and customization functionality, no more PDFs! New this year are also planning tracks for multi-age troops of Cadette, Senior, and Ambassador levels! 
For access to the VTK, renew your membership for the 2018-19 year. 
Download VTK Enhancements 2018-19 >> (PDF)