Volunteer Toolkit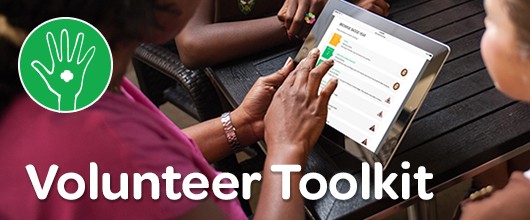 The Volunteer Toolkit (VTK) is a comprehensive digital tool accessible via the web on your home computers, smartphones, and tablets to help you have a fun and successful year with your Troop!
To access the VTK you must have an active account in the Member Community.
The Volunteer Toolkit gives you program content and other resources to manage your troop planning all year long—and keep it going smoothly!

Here's how it will save you time and help you plan:
The VTK offers two resources for planning your troop's time: Year Plans and Meeting Agendas.
Daisy, Brownie and Junior leaders can access pre-populated plans for every meeting.
Cadette, Senior and Ambassador leaders can access planning features.
Everything is fully customizable! 
You can also:
Manage troop finances
Track girls' achievements and attendance
Reference important safety guidelines for field trip planning
Stay in touch with parents and share meeting plan information
Access the VTK Resource Guide for 2018-2019 [PDF] »
Online VTK Tutorials are Available!
Want to know more of what the VTK can do and how to do it? Utilize our VTK Tutorial Library to maximize your experience.  Login to the Learning Portal for Tutorials »
Plan Your Girl Scout Year
The VTK offers pre-written Year Plans which will create meeting agendas for your entire year based on the meeting dates you specify. This can aide in communicating to leader and parent teams how many awesome things you can do in one Girl Scout year!

Your troop's team of leaders can update the order of meetings, edit agendas, change activities, and share information with each other ane parents via email. It's easy to add additional meetings and activities (like trips and special events). 
The VTK can help facilitate Girl-Led Planning!
Utilize the pre-written plans as a guide for involving the girls in the planning process. For example: The "Junior Badge" year plan includes two meetings to work on the Savvy Shopper badge.
If you know that your girls have other interests, you can let them lead the way to find alternate activities for those two meetings by researching options, and making agenda changes together--all within the VTK! More information about Girl-Led planning is available in your grade level training resources.
To help you, your leader team, and parents remember important dates throughout the Girl Scout year, your Year Plan will show "Year Milestones."  These orange banners appear in chronological order with your troop's meeting and activities.  

Create and Edit Meeting Agendas
The VTK serves as the go-to place for everyone within your troop to see important information about meetings and activities, including locations, times and materials needed. 
Your whole team of leaders can edit meeting agendas and meeting aide resources within the VTK. When additional meetings or activities are created, you can add resources from the VTK library onto your blank agenda. 
Your girl's parents have read-only access to meeting agendas in the VTK. This allows them to stay up-to-date on everything their daughter is enjoying in Girl Scouts!

Access the VTK today for all new content for every grade level, plus new features! You will find: 

The NEW Explore Tab: Makes finding and choosing badge and Journey content quicker and easier! 

Additional Badge earning Tracks: All Daisy to Ambassador Troops have even more ways to plan their year with pre-populated badge earning plans. 

Badge Requirements: Just click on the image of the badge! Now you can see what is needed to earn the badge and then customize the meeting plan to fit your troop! 

Older Girl Year and Meeting Plan Format: The year plans and meeting plans will have all great VTK format and customization functionality, no more PDFs! New this year are also planning tracks for multi-age troops of Cadette, Senior, and Ambassador levels! 
Download VTK Enhancements 2018-19 >> (PDF)

Have questions?
Contact Customer Care at 855-ILOVEGS (456-8347) or via email.