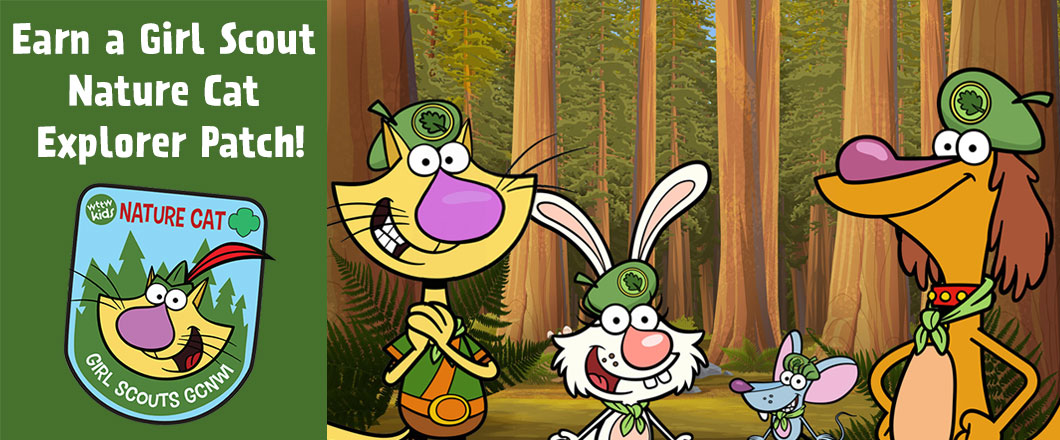 Nature Cat Explorer Patch Program
NEW! GIRL SCOUT NATURE CAT EXPLORER PATCH
Are you curious and excited to get outdoors and have some fun? Team up with Nature Cat and his pals, as seen on the television program on WTTW Kids, to earn the free Girl Scout GCNWI Nature Cat Explorer patch!
Each Nature Cat character brings you special activities: Nature Cat, Daisy, Squeeks, and Hal. Complete one activity from each to earn your patch.
The Nature Cat Patch Program Guide will get you started on your outdoor adventure! Then check your email for a link to a special survey. Complete the Nature Cat activities, take the survey, and get the secret code for your FREE patch!
Fill out the form below to access the Nature Cat Patch Program Guide!
Once you have your program guide, it's time to get started!
---
Not a Girl Scout? No Problem!
At Girl Scouts, the next opportunity to stand up, speak up, and take the lead is never far away. Discover all you can be and everything you can accomplish when you have the right tools and a safe space to shine—and work together to change the world. 
Will you find a sustainable solution to a problem in your community? Will you explore the great outdoors? Build a robot? Learn to code? Conduct an experiment?
Already a member? Log in to renew.
National membership dues are $25 per year.