Launch Her Into Girl Scouting!
She's Ready to Become a Daisy!
If your girl is in kindergarten or first grade she can join Girl Scouts as a Daisy! 
Daisies are Girl Scouts who get to:
And so much more. Sign up for Free Daisy Launch event! Ready to become a Daisy and start her adventure? Find a Troop near you.
Girl Scouts offers the best leadership development experience for girls in the world.

Our Girl Scout Leadership Experience is a one-of-a-kind leadership development program for girls, with proven results. It is based on time-tested methods and research-backed programming that help girls take the lead—in their own lives and in the world. 

Research shows that girls learn best in an all-girl, girl-led, and girl-friendly environment. Girl Scouts is proven to help girls thrive in five key ways as they: 
 Develop a strong sense of self. 
 Seek challenges and learn from setbacks. 
 Display positive values. 
 Form and maintain healthy relationships.
 Identify and solve problems in the community.

Start her on the path to becoming a leader!

---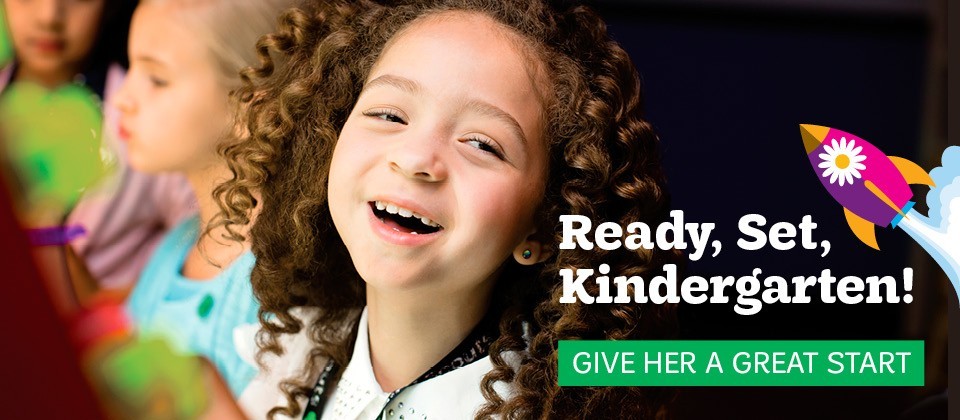 Join us for a four-week session where your girl can make new friends, learn how to use new technology, and learn about Girl Scouts!
Not only will she make new friends, she'll grow in confidence, and build skills that will help her in school and beyond! 
What Kindergarten Moms have to say about Girl Scouts
---

Invite A Girl, Get a Patch! 
Invite even MORE girls, get even MORE rewards! 
Bring a friend along to experience your new Girl Scout journey with you! Now through June 30, all newly registered Girl Scouts in grades K-12 who refer someone they know to also become a  Girl Scout Daisy are eligible to receive:
An "Invite A Friend" Frog Patch

And It's Little Friends to Match!

Receive a mini frog pin for every new girl you refer! 

Invite a Friend
Through Daisy Launch she can:

Spark initiative and curiosity about the world around her
Learn techniques on how to manage her emotions and behaviors
Feel comfortable following class rules and routines, and learn to do things for herself
Retain information and will be flexible in her thinking in order to perform a task
Maintain focus with minimal adult support
---
---

Frequently Asked Questions
We get it, you want to have all the facts and to make sure that Girl Scouts is right for your family. Explore our frequently asked questions below!
And don't hesitate to reach out to us any time!
Who can join Girl Scouts?

Any girl entering kindergarten in the fall that is at least four-years-old through grade 12 can join the fun as a Girl Scout. Adults 18 years of age and older may also join as an adult member, volunteer, and/or lifetime member.  

 

How do I join Girl Scouts?

Joining from April 1 - July 31:
Sign up for an extended-year membership available to new girl and adult members! Get 17 months of membership for the low rate of $35. That means an additional five months of Girl Scouting beginning May 1! Take advantage of summer experiences like camping  and continue with troop experiences in the fall without paying double membership fees. 

Joining after July 31:
Girls and adults can register for a standard 12-month Girl Scout membership for $25 beginning October 1. 

Join online today:
Member registration for girls »
Member registration for volunteers »

Will my girl be placed into a troop?

You will be contacted when a troop becomes available in your area. While we can't guarantee you a troop that will fit your needs, we will try our best to accommodate everyone. We appreciate your patience in this process!

We are always looking for volunteers to start troops all year. Volunteers are essential to get troop started and help support them. We welcome adults to let the fun begin now and start a troop in your community! Check out several ways to volunteer and help her shine.

Does a girl need to be in a troop?

No, there are also Girl Scouts who participate and earn badges without being affiliated with a troop. These girls are called Juliettes, named after Girl Scouts founder Juliette Gordon Low.

Any girl may register as an individual girl member and do the Girl Scout program independently with the support of an adult. Juliettes can also participate in council-sponsored programs. 

When can my girl begin her Girl Scout adventure?

How can I start a Girl Scout Daisy troop?

Is there support for volunteers?

Yes! Troops in a geographic area belong to a larger Girl Scout community called a service unit. Within a service unit team, there are experienced volunteers in leadership roles who help new volunteers. There are also volunteer trainings and resources, both online and in person, offered by the Girl Scout council.

Is financial assistance available?

Yes! There is a limited, council-wide fund that helps cover registration and program-related costs. This fund is supported by generous donors who want to ensure that all girls who want to be Girl Scouts can do so. Learn how to apply for financial assistance.
Girl Scouts serves girls regardless of race, color, religion, sexual orientation, national origin, economic status or disability.