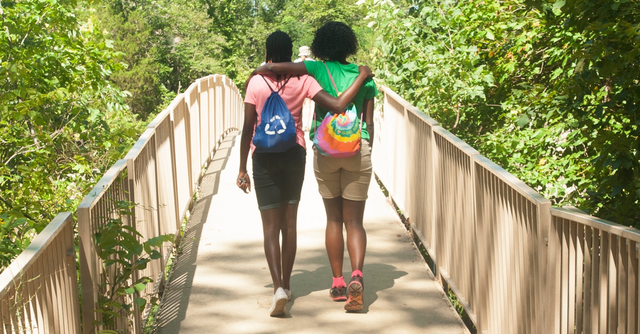 As girls and volunteers prepare to take the next big step with Girl Scouts, it's the perfect time to reflect on the past and look forward to a future full of new possibilities, new experiences, new badges, new Journeys, new skills to learn, and new trails to blaze! Celebrating this change should be fun, personalized, and memorable for everyone involved. Let's level up with bridging!
 National Girl Scout Bridging Week TBD
---
How to Plan a Memorable Bridging Ceremony

Whether it's your first bridging ceremony or the last, you may want to know more about hosting the best ceremony yet! We can help. Here are a few tips and resources to help with your planning.

 Let the girls take the lead with planning!
Bridging ceremonies can take place at the beginning or end of the Girl Scout year—and at the heart of the celebration should be fun, memorable, and, of course, girl-led experiences. 
Get ready for the next level with Bridging Kits!
Bridging Kits are available online for purchase. These kits include everything your Girl Scout needs to bridge to the next level in Girl Scouting. Each kit contains a GCNWI Bridging patch, Membership Disk, Membership Star pin, bridging award, and certificate.
---

 Learn from the pros!
Girl Scouts went straight to awesome troop leaders, volunteers, and Girl Scout moms and dads on Facebook to get answers! With literally thousands of bridging ceremony options floating around the Internet, we decided to ask our audience one simple question:  "What advice or ideas would you give to a volunteer planning their first bridging ceremony?"
Creative Ways to Bridge at Home
Watch camp staff Sprout, Caribou, and Nacho talk about bridging and even play a couple of fun rainbow bridge games. No bridge? No problem! Make your own along the way and join us for some fun rainbow bridge activities.
---
Bridging Leaders

Get ready to inspire girls as they lead at the next level of Girl Scouting by following these steps.
Explore the fun ahead for your grade level. At each level, girls can earn Journey awards and skill building badges. We have added new skill-building badges and life changing experiences to the Girl Scout program. Check out what's new here. Books, badges, and more can be purchased online at our local GCNWI retail store.
Share your Girl Scout experiences with your network. By helping us identify volunteer leadership at your school, you are helping Girl Scouts grow. We have all the resources you need here to help spread the word.
Remember that as girls progress in Girl Scouting, they take the lead more and more. They may decide they want to meet in a local coffee shop or take more trips. Give them the space to be creative and cheer them on. Check out the tips below curated from volunteers across the country in Tips for Troop Leaders.
Step Back and Let Your Girls Take the Lead
How to Plan the Troop Year Ahead While Keeping It Girl Led!
We can't say thank you enough for being a Girl Scout volunteer. As always, we are here for you. If you have questions, please contact your local Membership Support Team or email customercare@girlscoutsgcnwi.org.