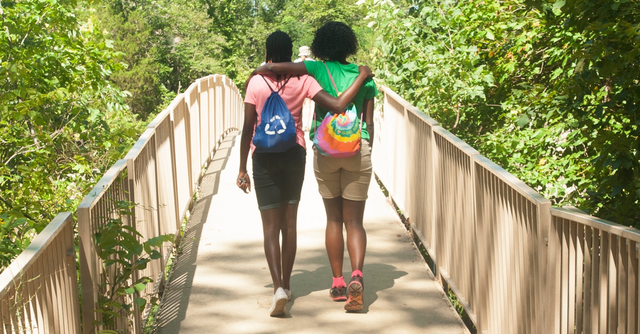 As girls and volunteers prepare to take the next big step with Girl Scouts, it's the perfect time to reflect on the past and look forward to a future full of new possibilities, new experiences, new badges, new Journeys, new skills to learn, and new trails to blaze! Celebrating this change should be fun, personalized, and memorable for everyone involved. Let's level up with bridging!

 National Bridging Week
National Bridging Week is May 4–11! And guess what? When you sign up for another year of Girl Scouting, you'll get to experience the joy of bridging! Bridging involves a special ceremony that highlights and celebrates all the amazing things you've accomplished this year.

See how Girl Scouts earn their bridging awards (PDF): 
Daisy | Brownie | Junior | Cadette | Senior | Ambassador
---
How to Plan a Memorable Bridging Ceremony

Whether it's your first bridging ceremony or the last, you may want to know more about hosting the best ceremony yet! We can help. Here are a few tips and resources to help with your planning.

 Let the girls take the lead with planning!
Bridging ceremonies can take place at the beginning or end of the Girl Scout year—and at the heart of the celebration should be fun, memorable, and, of course, girl-led experiences. 
Check out the Guide to Bridging » (PDF)

 Get ready for the next level with Bridging Kits!
Bridging Kits are available in store and online for purchase. These kits include everything your Girl Scout needs to bridge to the next level in Girl Scouting. Each kit contains a GCNWI Bridging patch, Membership Disk, Membership Star pin, bridging award, and certificate.

 Learn from the pros!
Girl Scouts went straight to awesome troop leaders, volunteers, and Girl Scout moms and dads on Facebook to get answers! With literally thousands of bridging ceremony options floating around the Internet, we decided to ask our audience one simple question:  "What advice or ideas would you give to a volunteer planning their first bridging ceremony?"