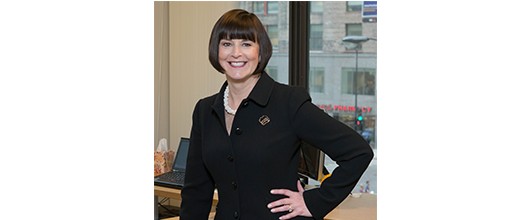 Meet The CEO 
Nancy Wright has a proven track record in leading cross-functional teams within diverse business environments, focusing on revenue results, developing new business and building brands.
Prior to joining Girl Scouts, Nancy served as president of Blue Plate Catering, Inc., overseeing the operations of a significant multi-million dollar business that provides upscale catering services to corporate, non-profit, social and cultural institutions; direct service catering to private homes and offices; a world-class restaurant; and management of Applause Food Operations for the Chicago Symphony Center. 
Nancy graduated with a Master of Science in Education degree from Northwest Missouri State University and a Bachelor of Special Studies degree from Cornell College. She served on the board of directors for the American Red Cross of Greater Chicago and is a member of the Advisory Council for the International Catering Association. She is a member of the Woman's Athletic Club of Chicago, is a Girl Scout alumna, and was a Girl Scout leader and volunteer for six years. 



SENIOR LEADERSHIP TEAM
 
Patty Fay, Vice President of Human Resources and Administration
Patty is responsible for human resources and business services throughout the council.   Patty has  experience in human resources with a variety of for profit companies.  These include several positions at  Wrigley,  regional director of human resources at Associated Bank,  human resources manager at Sandoz Agro, and human resources officer at Lake Shore National Bank. Patty  received her BS degree from Miami University, she is also a Certified Compensation Professional, and a member of the Society of Human Resource Management.  In her free time, Patty volunteers with her daughter's Girl Scout troop and has spent many a cold weekend helping her daughter build money management and goal-setting skills by selling Girl Scout cookies.




Julie Somogyi, Vice President of Member and Mission Engagement
Julie oversees a team of dedicated membership, marketing and volunteer services staff who are responsible for sharing the Girl Scout story to engage people in our Girl Scout Mission as members, volunteers, donors, and brand champions. As a news-editorial journalism graduate from the University of Illinois, Julie began working as a newspaper reporter and editor and quickly found her passion by shifting to non-profit marketing and communications. She has advocated on behalf of girls and women for more than 20 years, serving as a staff member for three Girl Scout councils.