Families, volunteers, supporters, alums, and everyone else who helps girls bring their dreams to life and work together to build a better future – we want to celebrate you! The week of Sept. 12, we are pressing "play" on a new Girl Scout year.
Join us for an exciting week of virtual and in-person activities beginning Sunday, Sept. 12, and culminating on Sunday, Sept. 19. We have a host of events for our Girl Scouts, families, and volunteers to attend to celebrate that Girl Scout Strong Spirit, and just being "Together Again!"
Please note that we will continue to follow CDC and state guidelines regarding COVID-19, including social-distancing and mask wearing. All events are therefore subject to cancellation or postponement.
But first, press play on your Girl Scout Membership!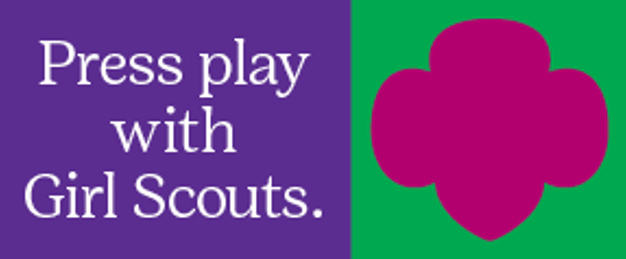 Why Press Play Now?

More than 80 percent of girls told us that "Girl Scouts helped me feel less isolated and lonely" last year. Nearly 80 percent said that "Girl Scouts helped me feel more connected to other girls and my community." And nearly 70 percent said that "Girl Scouts was one of the few places I could hang out with my friends."

Whether you paused or not last year, girls need you now. Join us as we build a caring ecosystem around girls in the year ahead. It's time to activate kindness, relationships, and fun!

Renew your membership for FY2022!

Celebrate Being Together Again!
Press Play—Together Again! | Sept. 18 and 19 | In-Person
See Girl Scout friends and neighbors at local "Together Again" events! If you cannot wait to see people in person, engage with council staff and enjoy hands-on activities for families, join us! These local events are open to girls, families, and volunteers! Join the fun and friendship on Saturday, Sept. 18, and Sunday, Sept. 19.
| | | |
| --- | --- | --- |
| LOCATION | DATE | TIME |
| Camp Butternut Springs | September 18  | 9 a.m.- 10:30 a.m. |
| Camp Butternut Springs | September 18  | 11 a.m.- 12:30 p.m |
| Camp Palos  | September 18  | 9 a.m.- 10:30 a.m |
| Camp Palos | September 18  | 11 a.m.- 12:30 p.m |
| Vernon Hills Gathering Place | September 18  | 9 a.m.- 10:30 a.m |
| Vernon Hills Gathering Place | September 18  | 11 a.m.- 12:30 p.m |
| Big Marsh Park | September 19 | 12 p.m. - 1:30 p.m.  |
| Big Marsh Park | September 19 | 2 p.m. - 3:30 p.m. |
| Camp Greene Wood  | September 19 | 12 p.m. - 1:30 p.m. |
| Camp Greene Wood  | September 19 | 2 p.m. - 3:30 p.m. |